Her Mission Is To Make You Completely Comfortable
Casey will leave you feeling taken care of and fully deep in relaxation, begging for more. No matter what your stress level may be, she will bring you to a place that is totally absent of worry. She offers adult couples massage, erotic massage for men, and sensual massage for women. When you first meet Casey, you will notice her bubbly personality and her perky tone. She will give you a sweet long hug when she meets you. Her mission is to make you 100 percent comfortable.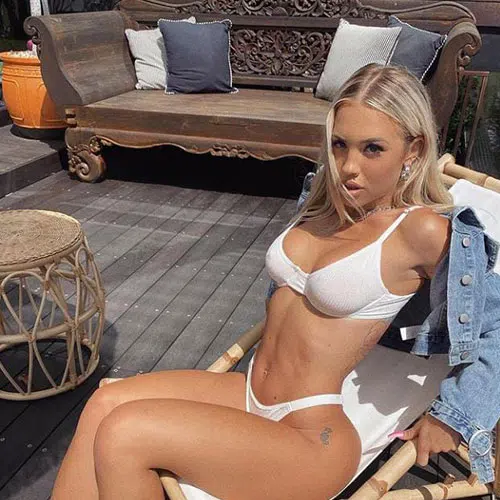 Casey is a total knockout! She has beautiful blonde hair and blue eyes. Her body is 1 in 10000 and she knows it. She likes flaunting herself around the private massage room and letting you see every angle of her stunning figure. Casey is all about making sure you are having a lovely time and she will stop at nothing to ensure that is the case.
Want a massage at your hotel room or home? That is really no problem at all. Book Casey for a 1 hour, 2 hour, half day or full night sensual massage appointment in Las Vegas and ask for Casey to come to you. If you decide to come to the spa, you will be in a completely private room with Casey. She will guide you to the massage table and you will get to savor every caress as Casey does her magic with her soft hands.
Additionally, Casey is also available for easy companionship. No matter what the event may be from tradeshow, business conference, or dinner date, Casey will dress to impress and show up ready for the event at hand. Maybe you want to go on a dinner date with Casey followed by a sensual massage. Or perhaps you would prefer the massage first, followed by dinner? Either way, Casey will make you relax through her soft touches and light-hearted conversation.
Casey grew up traveling from place to place as her family was in the military while she was growing up. She got to see some exotic places and learn about different cultures all around the world. She has some great stories from her travels and loves to share them! Feel free to ask her about her time in Ecuador or her adventures abroad in Hong Kong.
Casey is a sensuality nut. Her goal in life is to make other people feel good by touch. Come see her for an in room massage in Las Vegas for a once in a lifetime experience.